Site Services
Bentley Building Corp not only focuses on "sticks and bricks". We also offer complete site excavation services including, but not limited to: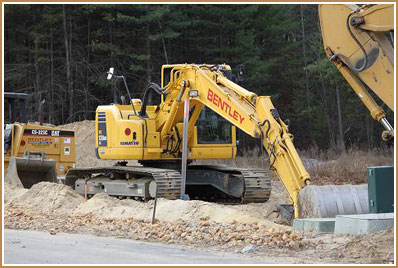 Tree clearing and stump removal
Loam stripping/grubbing
House foundation digging and backfilling
Sewer/Septic system installation
Excavation of underground utilities
Loam screening and spreading
Lot filling and cutting
Driveway preparation and installation
Landscape plantings, irrigation and hydroseeding
Walkways, retaining walls, patios and decks installation
Excess site fill removal
Our extensive fleet of excavation equipment including excavators, mini-excavators, loaders, compactors, bulldozers, skid steer loaders, vibratory rollers, hydraulic hammers and tri-axle dump trucks are available for rent by the hour, day or complete project timeframe.

We also offer and accept loam and/or clean fill should you need more or less earth material for your particular project.